The "coal-y" grail trend is going viral on the internet. Google trends has listed charcoal mask as the most searched skin care term in 2017. Charcoal has active ingredients which contributes to its extraordinary absorbing properties. In fact, they are so powerful that they are being used to remove poisonous bites. Its popularity is growing day by day. So, lets dig into some incredible ways you can use this wonderful product.

What is Activated Charcoal?
Activated carbon is produced by carbonaceous substances such as coconut shells. These substances are heated at high temperatures to form into coal. They are formulated with high content of oxygen to improve porosity (the ability of charcoal to enter into pores to fight germs, and cleanse out dirt from pores). The porous nature of activated charcoal makes it a more productive agent than charcoal.
Uses Of Activated Charcoal For Beauty Purpose
1. Face Mask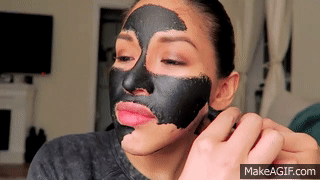 Due to its amazing cleansing properties, it can be used as a face mask. The active ingredients are capable of absorbing any kind of impurities present in pores and deeply cleanse out skin. It is capable of defying germ causing skin problems like pimple, acne and removing blackheads and whiteheads present it. You can buy it online from Amazon.
Or you can make this DIY activated charcoal face mask at home. You will need charcoal powder, aloe vera, and rose water. If needed, you can add you favorite essential oil too. Mix all these products to a paste. Now apply as a thin paste to your face and leave it for 20 to 25 minutes. This mask is very effective and moisturizing enriched with essential nutrients.
Also check: Top 10 Face Masks Available In India
2. Teeth Whitening
Indians have used charcoal since ages to whiten teeth. Traditionally, they have been using charcoal, neem twigs, and salt. Three of these components are now a hit and used by many toothpaste brands.
Charcoal has adhesive properties which helps to remove stains caused in teeth. So, this helps us get rid of the annoying coffee, tea, wine and plaque stains in teeth. While whitening, it balances pH balance and helps to improve the oral health. Buy it online from Amazon.
Just Kidding! Charcoal results aren't insanely white like Ross's teeth. 😛
3. Dark Underarms
Dark underarms is an embarrassing problem for many of us. As the skin area in underarms are very sensitive, it gets easily affected.
Activate charcoal has bleaching agents which are capable of lightening dark spots. Mix honey, aloe vera and charcoal powder together to a fine paste. Apply it on your underarms, elbows and knees wherever you have pigmented skin and wash it off after 15 minutes. Voila! You have lightened skin in minutes.
Also check: Reasons For Dark Underarms And Ways to Fix It!
4. Hair Cleanser
This might sound new to you, but yes! Activated charcoal is insanely good for hair.
Charcoal helps to get rid of any excess oil or dirt present in your hair. It is a powerful remedy for hair scalp problems like dandruff and itchiness and helps to promote overall hair health. It does not leave residue like regular shampoos and charcoal makes hair feel very light and gives a voluminous and healthy looking hair.
Read: Top 10 Effective Remedies For Dandruff
All you have to do is take a pill of activated charcoal powder and use it to cleanse the scalp as you usually would do with a regular shampoo.
Also check: Top 8 Miracle Home Remedy Hair Growth Masks
5. Detoxifies Skin

Activated charcoal helps to cleanse toxins and fight oxidants. Oxidants are the major components causing aging. Aging is a a part of life; But nowadays due to the various harmful toxins we are affected by environment, foods contributes to premature aging.
Charcoal has strong anti-oxidants which helps in removing these toxins out. Activated charcoal can be used externally or taken internally. Take one to two capsule of activated charcoal with water. This not only helps to detoxify skin, but also helps to reduce effects of indigestion, cholesterol, and bloating.
A Word Of Caution
Charcoal is a product full of bleaching agents, which has active ingredients. So, always do a patch test on hands for 48 hours to test fro any irritations before you try it on your face.
For consuming internally, make sure to check the product you are buying is prescribed to be taken orally.
I am literally obsessed with charcoal masks. I hope you found this article helpful. Make sure to try out these methods, and leave down your comments below.